Senior Panel Picture- Yearbook Picture Information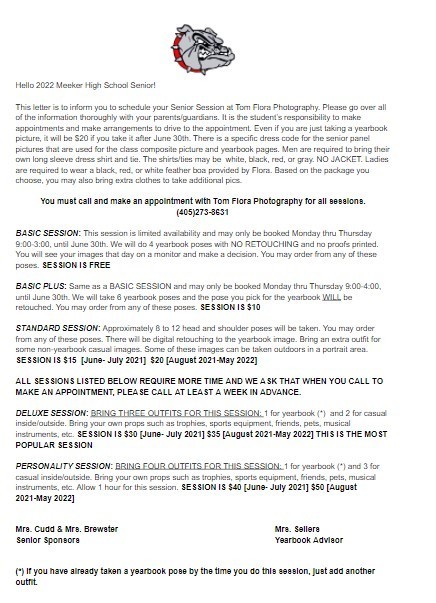 Please click documents, elementary to access and print the 2021-2022 Enrollment packet and parent packet for your elementary child. If they have already turned in an enrollment packet they will still need to provide a proof of residence. They can bring a copy at time of enrollment or email a utility bill to the office. Also, if they have not turned in a birth certificate or updated immunizations they will need to do so as well. An enrollment date has not been confirmed.
Graduation Requirements for Guests at Fire Lake Arena: At this time, no temperature checks will be conducted upon entry to FireLake Arena. All spectators are required to wear a mask at all times. Students will be allowed to remove their masks to participate and perform, i.e. to walk down the aisle during entrance, to walk across the stage, to take pictures, for those giving speeches and those performing in vocal or band. The school resource officer/security for the evening has been notified of the mandatory mask mandate on CPN property and has been asked to enforce these rules. Thank you for your cooperation. Jeff Pruitt Superintendent

1st- 6th grade baseball camp information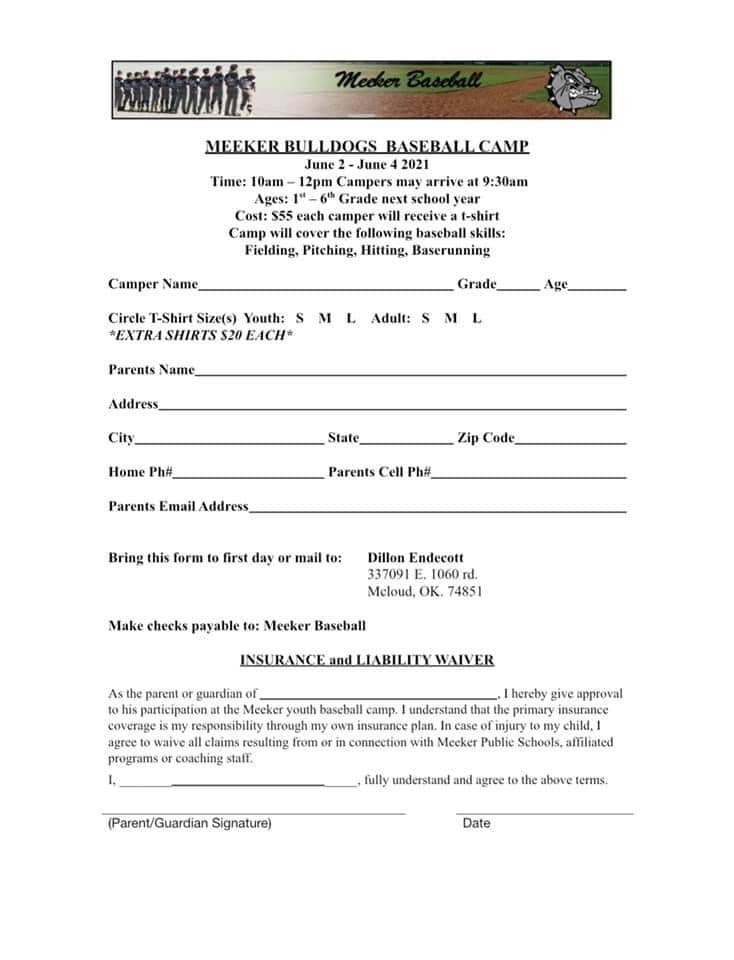 We are now doing our athletic paperwork online at meeker. Follow the link and complete now. The only form you cannot complete online is the physical one and that is because the doctor will need to sign that one. I have attached an instruction sheet.
https://meekerpublicschools.rankonesport.com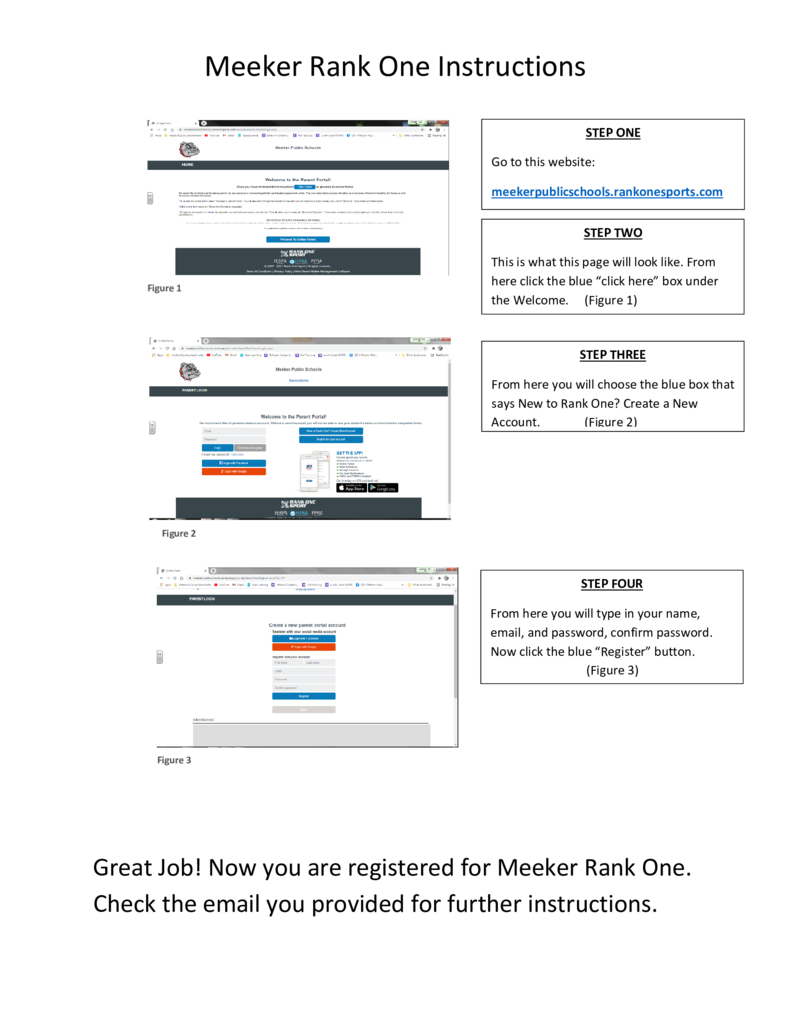 5th Graders (Girls) that are going into 6th Grade for the 2021-2022 School Year: 🏀🏀🏀🏀🏀🏀🏀🏀🏀🏀🏀🏀🏀🏀🏀🏀 This is our schedule for the Oilton Team Team Camp for June 3rd and 4th: June 3rd: 9:35, 10:10, & 11:30 June 4th: 2:40, 3:30, & 4:25 We will begin workouts on Monday, May 24th. I will let you know the time by the end of this week. If you have any questions contact Coach Dukes at 405-306-4179 or by email at
bdukes@meeker.k12.ok.us

Middle School Field Trip Info for 05/13/2021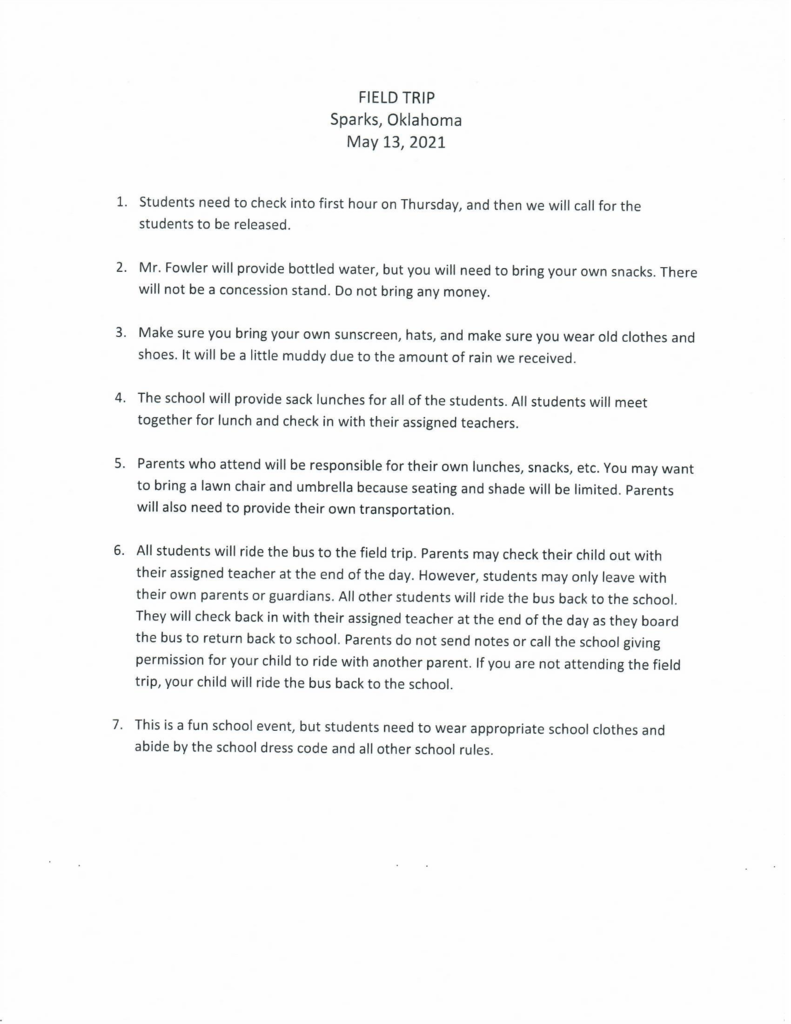 Buses will run at 1:35 on Tuesday May 18th.


🌟 Super Kid's Day tomorrow! 🌟 Parents, we are excited to see you! 👀 We do ask that, if possible, little siblings do not attend with you. If they have to come with you, they will not be allowed to participate in any activities. 🚽 Everyone will need to use the restrooms in the gym. 👍🏼 Looking forward to a fun day!

Please note the senior meeting is at 11:15 on May 12th in the new gym.


Congratulations to to our track team on their performances in the regional track meet. Boys 4x 200 placed 6th- team members were Caden Wolford, Keavin Grady, Kayde Kerensky and Jay Standlee. 300 Meter Hurdles- Autumn Ingram finished 5th. Shotput- Mary Beth Frerichs got 4th. Two Mile- Callie Sellers finished 4th. Two Mile- Riley Randall finished 2nd. 800 meter- Braxton Bussell got 5th. One Mile- Braxton Bussell got 4th. The following students qualified for state and will run at the STATE TRACK MEET in CATOOSA on May 7th. Congratulations!!! ***Callie Sellers , Riley Randall, and Braxton Bussell*** Thank you coaches and administration for your continued dedication to these athletes and the track program here at Meeker. We are proud of you!

Congratulations to the National Honor Society Inductees. These students were inducted for 2020 yesterday: Seniors: Madison Bruton Katy Buxton Trevor Herbert Abbye Smith Levi Watham Juniors: Lyndsey Clagg Zachary Cook Caitlyn Cozart Garret Grantz David Nunez Gage Powell Hayden Ruyle Ashley Schilling Hope York Sophomores: Maleah Blankenship Emma Grantz Lauren Miller Calista Treat Kendell Vaughn Emmy Wilson Levi Wynn These students were inducted for 2021 yesterday: Juniors: Joseph Guercio Breanna Pearcy Sophomores: Ashley Adams Brittany McDoulett Devin Sliger Current Senior Members: Kaycee Babek Connor Benn Kade Brewster Cade Patterson Callie Sellers Aidan Williams Current Junior Member: Mary Beth Frerichs

MHS Baseball team won districts!!! They will progress to regional action later this week. Time/Location will be posted as soon as possible.

The 5th grade vs. Teachers kickball game will be postponed until Monday, May 3. There will be a concession stand & everything will be $1.00!

The Pride of Meeker Band will have their Spring Band Concert on May 13th at 7pm in the New Gym.

HS BASEBALL BI-DISTRICTS 3PM and 5PM Thursday @ Bethel If needed the third game will be Friday @ 1PM. IF RAIN= everything gets pushed to Friday/Saturday

HIGH SCHOOL Important Dates to know: HS Sports Awards Event: May 3rd. @6:30pm @New Gym HS Academic Awards Event: May 11th @ 6:30pm @New Gym Senior Baccalaureate: May 16th @ 7pm @ New Gym Sports Physicals May 20th @ 6:30 @ New Gym/Cafeteria HS Graduation: May 22nd @ 2pm @ Firelake Event Center *There are no limits on attendance for graduation.

All MS and HS students who have been checked out a Meeker Chromebook and charger if/and/or a Hot Spot will need to be prepared to check them in on Wednesday May 5th. We will have them turn them on and show us that they are in working order. Thank you 🙂 HS- Virtual students who have a Chromebook will be required to check them in before 3:20p.m. on May 14th. If they finish their classes and tests early we would LOVE for them to check their devices in early. Bring them to Mrs. Wolford's room. If they have a laptop- they will also need to check that in. If they are doing summer school- they will check the devices in on this day still and check them out again for summer school-( Its separate paperwork.)

Just a reminder the HS Sports Awards ceremony will be May 3rd at 6:30pm at the HS new gym.