No HS softball today at Cresent, they had too much rain.

MS softball games for today have been canceled.

HOCO shirts went home today. With the hustle and bustle of the day- if anyone got home with the wrong homecoming shirts please email Mrs. Pruitt and she will get you the correct shirts.
Spruitt@meeker.k12.ok.us

HOMECOMING PARADE UPDATE as of 9/13/23 12:30 pm Pep assembly will be Thursday 2:15 pm in the New Gym. Parade will be FRIDAY- The floats will line up at 12:30 and Parade will begin at 1pm

HOMECOMING PARADE UPDATE as of 9/13/23 12:30 pm Pep assembly will be Thursday 2:15 pm in the New Gym. Parade will be FRIDAY- The floats will line up at 12:30 and Parade will begin at 1pm.

ANNUAL TITLE I INFORMATION MEETINGS AT MEEKER SCHOOLS Parents of all Meeker Elementary, Middle, and High School students are encouraged to visit the campus their child attends on September 14 and September 15 to receive Schoolwide Title I information regarding reading and math achievement. Administrators will be available to provide family literacy resources and information about reading services on Thursday evening from 4:30-7:30 and Friday morning from 8:00-12:00.

MS Softball is cancelled for today. 09/12/2023

Results from today's OBU invite at Gordon Cooper High School Girls 2 miles out of 118 runners Payton Trotter- 14:02- 19th place *Medalist* Emme Gabeau- 15:01- 36th place Addie Tipton- 16:05- 53rd place High School Boys 5k out of 147 runners Brodey Manning- 21:04- 46th place Rylee Pryor- 21:24- 53rd place Tristan Bynum- 24:17- 99th place Amos Grimes- 28:24- 133rd place All of our runners ran well with many improving their times! Way to go Bulldogs! 🐾🏃‍♀️🏃
Due to recent events across the state, Holdenville Public Schools is implementing additional security measures immediately for the safety of our athletes, students, and fans. The following rules will be implemented immediately. No weapons of any kind will be permitted including pocket knives No back-packs No large purses or bags No outside food or drinks No footballs, or other sports balls will be allowed in the stadium Only clear small, 16" by 8" bags or smaller will be permitted. Upon entry, metal detection devices will be used. You will be asked to and empty pockets prior to metal detection. If you leave the game, you must pay to re-enter and metal detection will be used. Once again, these protocols are being implemented for the safety of everyone. Sincerely Holdenville Schools

Results from the Meeker Invite at Camp Cargill! High School Girls 2 mile 15th place-Emme Gabeau *Medalist*- 15:20 30th place- Payton Trotter- 16:38 32nd place- Addie Tipton- 16:42 49th place -Mallory Blankenship- 17:51 96th place- Kellan Kisch- 20:41 Out of 135 runners Girls finished 6th place as a team! High School Boys 5k 29th place- Brodey Manning- 20:56 60th place- Cayde Kerensky- 23:02 74th place- Rylee Pryor- 23:37 92nd place- Tristan Bynum- 24:43 132nd place- Amos Grimes- 29:07 Out of 158 runners Boys finished in 12th place as a team! Overall we had almost 900 runners at our meet! Thank you Meeker Public Schools, Cross Country parents and family for all the support. Go Bulldogs!

All Meeker is encouraged to wear their lights out tshirts or black shirts to the game against Prague, Sept. 1.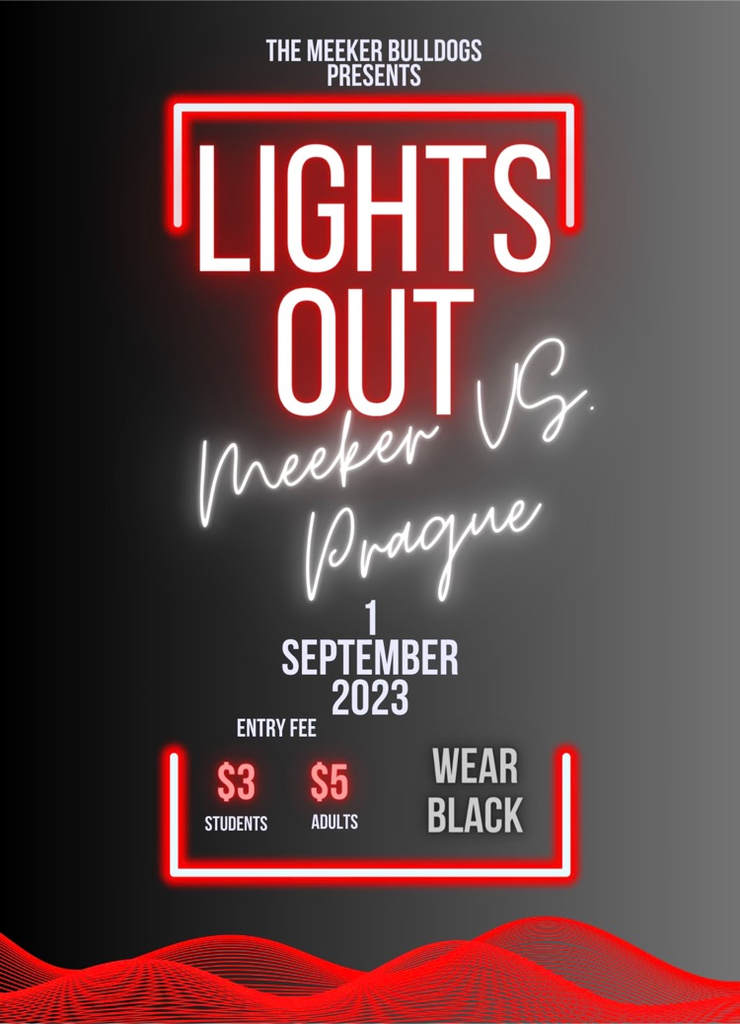 Vision screening papers will be coming home today the Elementary. 🛑 If you DO NOT want your child to be screened, then please return this slip by Friday September 1st. If you wish for you child to have the screening then just discard this green paper.
Meeker and Prague Families – We would like to address a concern regarding student safety at this Friday's football game. Earlier this week, a 14-year-old was arrested for making threats of violence towards students at an upcoming Minco High School football game. While reporting on this story, a local news outlet mistakenly stated that the threat was made toward this Friday's Meeker High School football game against Prague High School. This news report was inaccurate, as the reporter inadvertently confused the similar-sounding towns of Minco and Meeker. We want to assure our families that no threats of violence have been made toward Friday's game between Meeker and Prague. Both the Meeker and Prague school districts understand the concerns of our students and families following last week's tragic incident at the Choctaw High School football game. The safety of our students, staff, visitors, and community is paramount and we will be partnering with local law enforcement to provide additional officers at Friday's game. We all have a role to play in keeping our schools and events safe. We will continue to be proactive in communicating with our communities. If you have questions or concerns contact the superintendent at either district.

Meeker Middle School is seeking a full time Custodian/Maintenance person for immediate employment. Interested parties please contact Matt Jones at
mattjones@meeker.k12.ok.us
or call (405) 788-4540 ext. 302.

Parents just a couple of reminders, 🚌 If you have any transportation changes please call the office by 2:30pm. 🛑 If you need to check your child(ren) out please do it by 2:30pm. 🚨 If your child(ren) are absent please call the office and let them know.

YEARBOOK PICTURE DAY Yearbook Picture day will be Tuesday August 29th at all Meeker Schools.

7th grade students must bring a copy of their immunization record and have already received the TDAP shot to pick up their schedule.

Middle School schedule pick up is August 8th. 4:30pm-6:30pm. Location: MS Office and Auditorium

HS schedule pick up is August 8th. 4:30pm-6:30pm

Reminder: All athletic schedules are posted on the website as soon as they are made available. Click EXPLORE then click ATHLETIC SCHEDULES.