SENIOR NIGHT! 6pm Friday Come celebrate the Senior Football Players, Senior Water Girls, Senior Band Member, and our Senior Cheerleaders :)

Elementary parents: The Elementary Thanksgiving dinner is on Nov 21. If you would like to eat with your child money for all guests must be paid by Nov 15. In order for us to have enough food we will not accept orders after this date. Thank you :)

Thursday, Oct 31st. the sophomores will be taking their Pre- Act. Make sure they eat a good breakfast and get a good nights sleep in preparation for that.

Literacy Night @ Meeker Elementary Tuesday, October 29, 5:00-7:00

Picture re-takes will be Tuesday during school.

It's mini cheer time!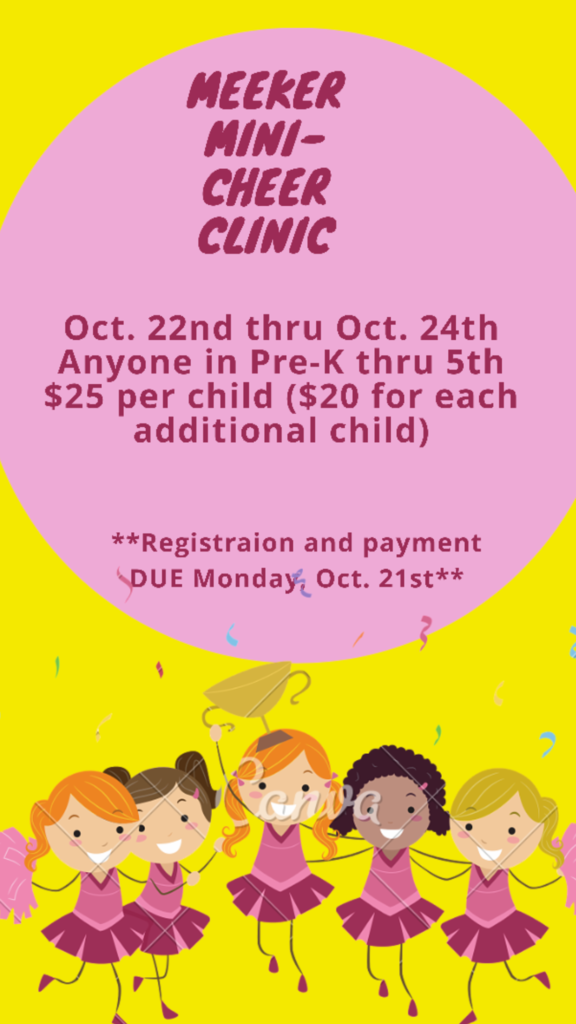 SENIOR PARENTS!!! Meeker High School will host the annual Free Application for Federal Student Aid (FAFSA) Night on October 24 in the library @ 6:00 pm. Any parent who has a senior student going to college in the fall of 2020 will need to file for FAFSA. Rose State College will be here to assist. Parents bring your 2018 tax returns and ask a lot of questions, Rose staff is here to help you!

Time to order your Thanksgiving and Christmas hams. Meeker Baseball is selling smoked hams. They will cook them Nov 23rd and they will be available to pick up or delivery on that date. All hams are approximately 10lbs. and spiral cut. Contact any meeker high school baseball player to get prices and to your order in.

The fundraiser items are scheduled to be delivered next Monday, October 14. Please make plans to have someone available to pick up the items your student has sold between 1:00 pm and 5:30 pm. We do not have space to store the cold/frozen items. As always, thank you for your help with our fundraiser!

Friday October 11 End of first 9 weeks

Christmas Play auditions for JH and HS Drama students Thursday Oct 10- 3:30-6pm, In the auditorium.

FFA goes to OCC Contest 10/10 @ Lawton

Attention Bulldogs Fans: The theme for this Friday's student section is "BULLDOG STRONG" In honor of cancer awareness, we will be wearing PURPLE at the game in recognition of Makenzie Barnes-Elkins who has recently been diagnosed with Hodgkin's-Lymphoma. To support Makenzie, we will be collecting change in our 4th and 5th hour classes, as well as the 3rd quarter of the football game on Friday night. Wednesday evening, the Meeker First United Methodist Church will dedicate its Community Café to Makenzie so make sure to stop by from 5:00 to 7:00, get a plate full of lasagna, and support Makenzie. Donate your change, wear your purple, and remember: "There Ain't No Strong Like Bulldog Strong"

Upcoming Events: ​10/14/19- Central Area Sporting Clays Contest ​10/15/19- Regional OCC Contest ​10/22/19- State OCC Contest (if we qualify at regionals) ​10/26/19- Chapter Officers will have a booth at the Meeker Fall Festival ​10/29/19- FFA Halloween Party @ Show Barn @ 6:30PM

Elementary: We will be meeting at First Baptist Church at 7:30 am tomorrow (Tuesday) morning to "walk to school." Buses will unload students at the church, and car riders are welcome to be dropped off at the church and walk to school with the staff. Hope everyone can join us!

The phones and internet have been restored.

The internet is down at all three sites which causes the phone to be down as well. If you need to contact the high school you will have to leave a message and you will be called back from a cell phone. If you need to reach the elementary or middle school you will need to contact them through your child's teacher. Thank you

The phones and internet are also down at the Elementary.

Our internet is down at the MS and HS which means the phones do not work. Hopefully this issue will be resolved within a day or two.

HS SOFTBALL Senior Night/ Regional Send Off Rally When: Wed Oct 2-5:30 @ the softball field. *Come celebrate our talented softball girls and their coaches. *Listen to the Pride of Meeker Band. *Cheer along with our gorgeous cheerleaders. Let's bring on the school spirit for these young ladies!! GO BULLDOGS!! Share this post and bring a friend.